---
Recipes — Spanish Tomato Sauce
Posted by Amanda Walden on
We would like to wish you all a very Merry Christmas and let you know that last orders for this year will be sent out on 21st December.  Our offices will be closed between 23rd December and 3rd January therefore any orders received after 21st December will not be sent out until 4th January. Thank you all for your valued custom in 2022 and we look forward to looking after you in 2023. HAPPY CHRISTMAS AND A MERRY NEW YEAR.
---
Posted by Chloe Walden on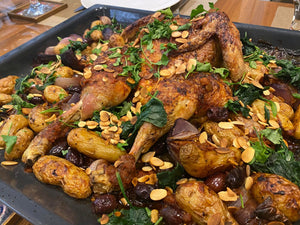 This recipe has been created by Hannah Harley Young, host of podcast Crazy Sexy Food and is a delicious take on our Spanish Roast Chicken recipe using our Spanish Tomato Sauce - perfect for all the family to enjoy. 
---
Posted by Chloe Walden on
Our Spanish Roast Chicken recipe is a twist on a Sunday classic. Made with smoked paprika, basil, garlic and punchy sun dried tomatoes, our Spanish Tomato Sauce gives this recipe a rich and aromatic flavour. Serves: 6Prep time: 15 minutes Cooking time: 1.5 hoursChef's tip: Add our Spanish Tomato Sauce onto the chicken and over the potatoes for the last 10 minutes of cooking time for maximum flavour.  Ingredients:  3 medium-sized red onions, peeled and cut into wedges  1 large chicken (around 2kg) 25g butter, room temperature  220g pouch of Spanish Tomato Sauce  3 tbsp cooking oil (e.g. vegetable oil, rapeseed oil, etc.)  1.8kg potatoes (such...