---
Posted by Amanda Walden on
We would like to wish you all a very Merry Christmas and let you know that last orders for this year will be sent out on 21st December.  Our offices will be closed between 23rd December and 3rd January therefore any orders received after 21st December will not be sent out until 4th January. Thank you all for your valued custom in 2022 and we look forward to looking after you in 2023. HAPPY CHRISTMAS AND A MERRY NEW YEAR.
---
Posted by Chloe Walden on
Our vegan Spicy Sweet Potato and Carrot Soup is a smooth, silky and nutritious winter warmer, made with our Hot & Spicy Curry Sauce. Perfect for curling up with on a cold winter day with fresh bread and butter. 
---
Posted by Keejays Limited on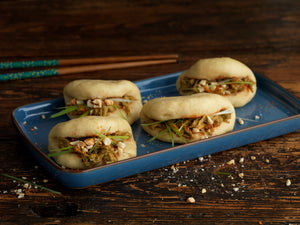 Made with our aromatic Hot & Spicy Curry Sauce, our Jack Fruit Bao are a delicious vegan version of a filled 'Chinese Roll' with a kick.